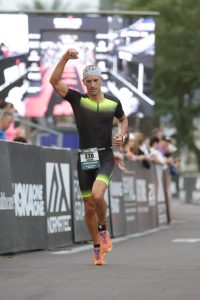 2016 was a great year for me in and out of triathlon, and I wanted to review the successes I had with racing this past year, and what I learned for the years to come. In a nutshell, here are some of the highlights:
Made it through another year, safe, healthy, and sober.
Finished within the top ten of my age group (35-39) in all six of my races this year.A
Broke 10 hours in an Ironman for the first time (Vineman).
Broke 9:30 in an Ironman for the first time (Arizona, four months after Vineman).
Achieved my first podium at a triathlon (2nd in age group at Pacific Coast Triathlon).
Achieved my first podium at an Ironman 70.3 event (5th in AG at Superfrog).
Just missed a Kona slot at Vineman (missed it by 2).
Ironman PR set this year (Arizona), an hour faster than the PR set in 2015 (Texas)
The most dramatic improvements for me came on the run. In 2015 I really struggled with running off the bike. I just wasn't hitting my training paces. After making some adjustments to my training and preparation this year, I was able to not just run well off the bike, but far exceed my expectations, running a 3:37 at Vineman and a 3:20 at IM Arizona.
The adjustments I made that worked for me were as follows:
Decreased swim volume training – this served a few purposes. First, it was to make more time in my schedule. Second, from the standpoint of an adult onset swimmer, I tend to get fatigued by heavy swim volume, which of course causes my form to break down. I thought that by decreasing the volume and focusing on higher quality swim workouts I would a) maintain my form and energy, and b) give myself more capacity for bike and run training. It was tough for me to follow the counter intuitive approach of decreasing volume to improve, but it was effective, as I swam better this year than I did in years past, with a personal best IM swim of 1:03 at Vineman.
More bike trainer workouts, less outdoor and overall volume on the bike – A theme with my training this year was to become as efficient as possible in order to save time. More miles on the trainer meant that I could better control the quality of my bike workouts. I structured small periods of intensity into longer rides, as well as focused tempo and steady state sessions. Though my bike fitness didn't seem to improve over the previous year, this approach did wonders for my run.
Made Easy VERY easy – I used to think that I was going easy in most of my workouts, until I started going really easy in 2016. I ran my aerobic runs at a heart rate about 10 bpm lower than what I had in 2015. This made a big difference to the freshness of my legs, and my ability to do harder workouts harder. For the first time ever, my Ironman marathon pace was much faster than my easy training pace.
Made recovery a priority – As I've written about in previous blog posts (see "Two Secrets to a Huge PR"), I incorporated a number of recovery tools into my protocol. This included the Rapid Release Technology and the Normatec Recovery Boots. Both were effective, though I would give the edge to the RRT for more effective tension release. The Wim Hof method has been great for providing much needed energy before a workout. It's almost a way of priming the lungs and saturating the muscles with oxygen, which allows them to operate more effectively. Of course sleep was a big part of my recovery, and I did all I could to get at least 8 hours a night.
For 2017 I plan to do double down on the things that worked for me. Recovery will continue to play a major role, and so will meditation (both in and out of workouts). I also plan to increase the contrast between easy and hard, making sure that easy is very easy. For my hard workouts, I plan to target higher watts during bike intervals, and higher paces during run intervals. My hope is that I can improve my bike split in 2017 and 2018 to bring me closer to the goal of a 9:00 Ironman.
I have three 70.3 races on the schedule for 2017, but it's still up in the air as to whether I will do a full or not. I am choosing to focus on other things which will limit my capacity for full Ironman training. I will continue to work on ways to find the most efficient training methods so that I can improve as much as possible with as little time commitment as possible. My hope is that when I do once again sign up for a full Ironman, I can do so with the confidence that I can achieve my goal of qualifying for Kona, and even more lofty, breaking 9:00!
Happy training!